So much more than dailies and directories
No one produces better show dailies than Ascend. From clickable moments and snackable content, to live meeting coverage with deep science perspectives and content that enhances and builds community, our dailies are without equal. But that's just a part of our story.
We're also masters of selling sponsorships, symposia and exhibit space. We produce enduring materials from meeting content, and patient education pieces for association members. Our list of specialty convention publications tallies in the dozens. And just in case you're wondering, print is most certainly not dead. The exhibitors we work with, by a wide margin, choose print over digital options.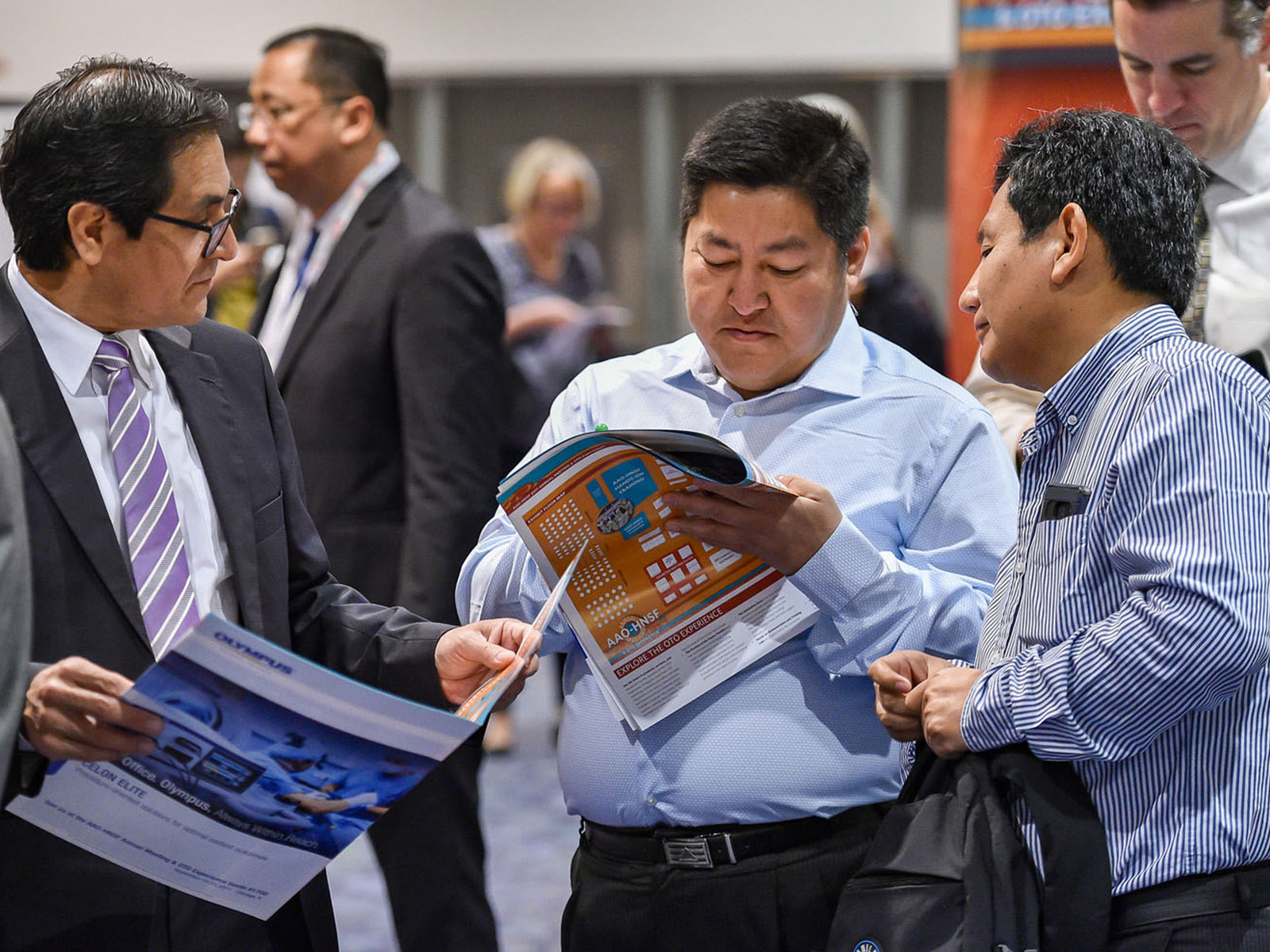 ---
Printed publications designed to inform, engage, drive behaviors and build community before, during and after a convention or meeting. All our print products are supported by advertising –through either multiple ad units or single-sponsorship.
Attendee Welcome Guide

Distributed to attendees at hotels as they register, this publication welcomes them to the meeting, and provides early details they need, such as shuttle bus schedules and registration hours.

Custom Publications

Road maps or guides to your meeting based on specialty or business sector. Provides attendees with the sessions, product theaters, symposia, posters and programs most related to their specialty/business sector. These publications help attendees feel that the event is built to their specific needs.

Directory/Onsite Meeting Guide/Planner

Help attendees plan their daily schedule at your event, navigate the headquarters hotels and convention center, and still have a valuable industry publication to take home and use until next year. Works in tandem with your mobile app.

Doctors Bag/Literature Bag

We place exhibitor inserts into bags and deliver them to your block of rooms at headquarters hotels and at the convention center. Used by exhibitors for branding, programming invitations and booth drivers.

Maps

Symposia Locator Map - An invaluable tool for attendees searching for the dates, times and locations of (especially evening) symposia. Pocket size for ease of use.
Convention Center Map - Maps on mobile apps are hard to read and take time to access. A handheld map identifying session rooms, food courts and the exhibit hall are appreciated by attendees.
Exhibit Hall Map - Helps attendees quickly find the booths, posters or other locations they need on the trade show floor.
Poster Hall Map - Provides attendees with navigational assistance through your posters, which are often a highlight of any scientific or medical event.

Meeting Daily Newspaper

Delivered each day of the meeting, the daily newspaper builds a sense of community at your event, and creates a buzz. It recaps yesterday's highlights, promotes today's activities and helps drive attendees where you want them. It's also an effective engagement tool for exhibitors to brand their products, programs and exhibits.

Preview

Drive registrations and get those already registered excited about your event with a mailed Preview. A mix of news, promotion and inspiration.
---
Companies partner with Ascend to benefit from the most tenured sales team in the industry – our medical account managers have been selling convention advertising, sponsorships and exhibit sales for more than 28 years. And they have long-standing relationships with the top pharma companies in the U.S.
Advertising

Advertising sales in your print or digital publications can turn them from a cost center to a money maker.

Convention Center Sponsorships

From site selections and asset recommendations, to pricing and onsite execution, we are specialists in convention center sponsorships – including custom ideas based on your top exhibitors' goals and objectives.

Exhibit Sales

Our sales team immerses itself in your industry to truly understand its makeup and determine a path for exhibit prospecting. From onsite renewals to year-round sales, we produce results.

Guru Bars/Lightning Talks

Small education zones in the exhibit hall built around specific topics, where exhibitors pay to host 15-minute "blast" education sessions throughout the day.

Hotel and Citywide Sponsorships

Exhibitors are looking for new ways to connect with attendees, making hotel and citywide sponsorships hot!

Individual Room Drop

An Ascend mainstay, these advertiser-supplied pieces are delivered either at the hotel room door, or inside the rooms, of meeting attendees.

Non-CME Symposia

A opportunity for medical events to connect industry with medical professionals. Often held in the evenings at locations at or near the headquarters hotels.

Product Theaters

Full-scale education programs or workshops in the exhibit hall, where exhibitors demonstrate a product or present a new technique. We sell them out!
---
Ascend's digital campaigns deliver the metrics, assess the meaning behind the analytics and build strategies for future campaigns, assuring greater engagement.
Digital Doctors Bag/Literature Bag

A digital extension of our doctors/literature bags to dramatically broaden and increase the distribution to attendees and non-attendees alike.

eDaily

Produced either in tandem with each day's daily, or created with fresh content and/or reader segmentation and personalization. A great way to serve attendees who prefer digital content, and show non-attendees what they're missing!

ePreview

Much like a print version, ePreviews are meant to excite people about your meeting and drive more registrations.

Videos

We produce preview videos to interest prospective attendees in your meeting, as well as all sorts of onsite live coverage, such as Program Chair announcements and man-on-the-street interviews for post-event marketing.