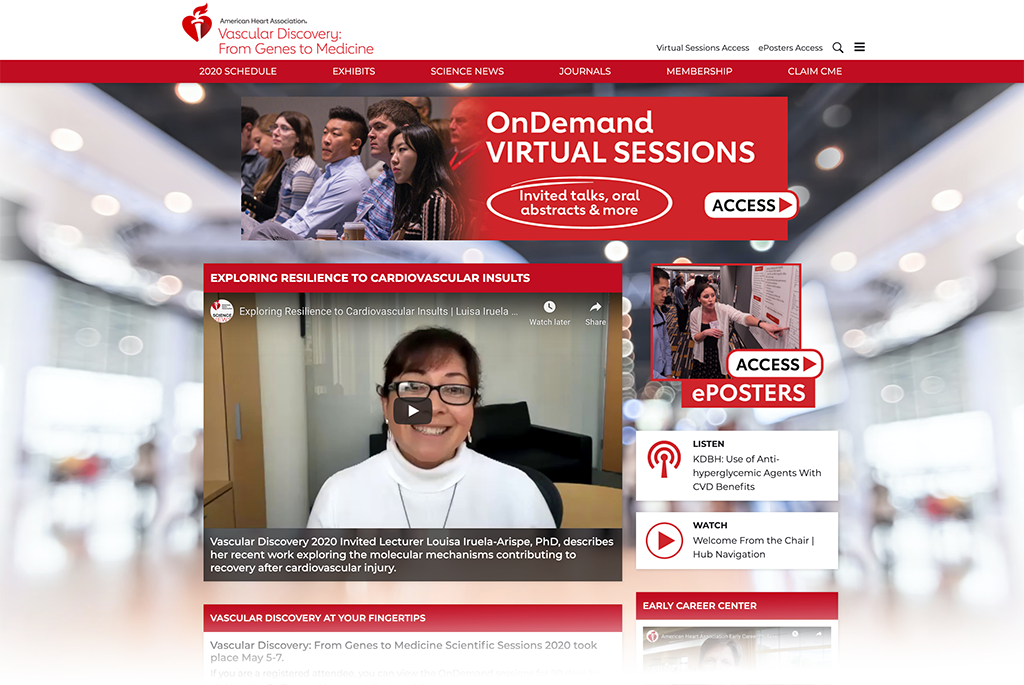 In May, Ascend Media and the American Heart Association partnered to produce the association's first all-virtual event – Vascular Discovery: From Genes to Medicine 2020 Scientific Sessions Virtual Event and Heart Hub.
Using Ascend's Learning Hub platform as a virtual "lobby" to lead attendees to simulive sessions, moderated poster sessions, ePosters and Zoom roundtables, AHA provided attendees from around the world with the clinical practice updates and scientific research and advancements they would have experienced at the live conference, originally scheduled to take place May 5-7 in Chicago.
Billed as the "heart" of the virtual event, the Heart Hub featured podcasts, blogs, a virtual exhibit hall and relevant content curated from throughout AHA journals, Councils, Science News and the Professional Heart Daily.
More than just a virtual event, however, the Vascular Discovery Heart Hub continues to serve as a community for this subspecialty year-round with regularly updated content from AHA and exhibitors.
Ascend's Learning Hub solution also includes a year-round comprehensive content marketing plan that includes webinars, enewsletters, podcasts and other activities that draw attendees to the hub regularly.